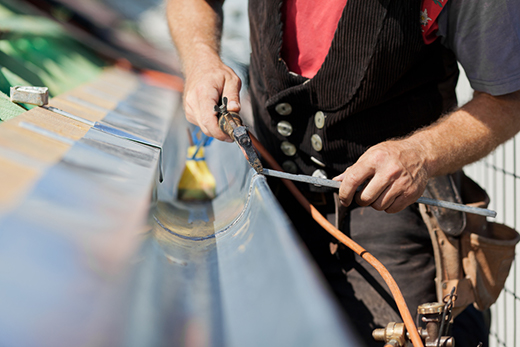 Seamless Gutterworks Co. provides a wide range of gutter repair in Ames, IA. Our experienced staff members are experts at identifying problems with damaged gutter systems. We will fix your home's rainwater conveyance systems and keep your soffit and fascia protected as promptly and professionally as possible. When you call us, you can rest easy, knowing that you're calling the experts.
You can rely on us for expedient and friendly service. With more than 25 years in the field, we are proud to be the region's foremost provider of gutter services. Because we are a licensed contractor in the state of Iowa, you're guaranteed the highest possible quality of gutter repair services.
We are capable of repairing nearly any type of gutter damage that your home may be facing.

Sagging gutters
If your gutters are sagging in places, or seem to be pulling away from your house, you should call the gutter repair experts at Seamless Gutterworks Co. as soon as possible.

Downspout issues
As the most trusted gutter contractors in Ames, IA, you can count on us to repair your inadequate downspout. If your downspout is no longer serving its intended function of keeping water away from your foundation, reach out to us as soon as possible.

Holes and leaks
Over time, holes and leaks can form in your gutter system. Wherever your gutter network is damaged, our team can repair it in no-time. We can assist you with nearly any hole or leak.

Improperly pitched gutters
If the water pouring from your gutter's downspout isn't reaching its intended target, let us take a look at the problem. We can correct improperly pitched gutters promptly and professionally.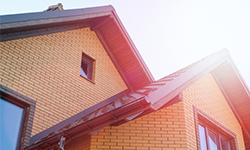 Complete Eaves Service
If you are experiencing a problems at the eave of your roof you are most likely noticing leaks behind your gutter, down your soffit and fascia, or worse yet underneath your drip line. At Seamless Gutterworks Co, we offer complete eaves service and gutter repair to residential and commercial buildings.
Schedule Gutter Repair
If your home's gutters aren't operating the way they're intended to, you should call Seamless Gutterworks Co. for gutter repairs, cleaning, and installation as soon as possible. Contact us today at 641-648-2755.