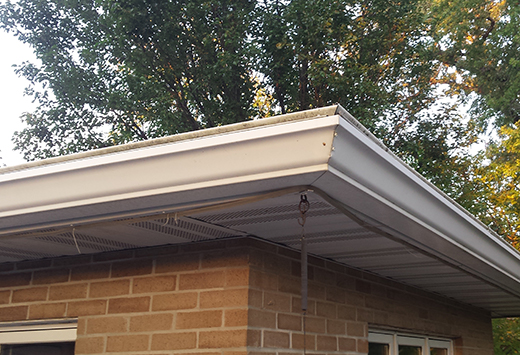 Seamless Gutterworks Co. is the premier provider of both sectional and seamless gutter installation in Ames, IA. We offer high-quality rain gutter installation services for a wide variety of home types and construction styles.
Whether you're completing construction on a new house or simply updating the rain conveyance system on your current abode, we're here to help you remove water from your roofing as easily as possible.
Seamless and Sectional Gutters
Seamless Gutterworks Co. is capable of installing both sectional and seamless gutters on your home. Seamless gutter installations carry a number of benefits over sectional gutters.

Color variety
There's no getting around it: seamless gutters look great. Investing in a seamless gutter system is an excellent way to build up your home's curb appeal.

Less leakage
Because they lack any seams where water could escape from the system, seamless gutters are more effective at removing water from your roof and transporting it to your desired outlet.

Stronger design
Seamless gutters are made of higher-quality materials, and have fewer weak points than section gutter systems. Seamless gutters are more likely to represent a long-term investment in the health of your home.

Enhances value
Rain gutter installation in Ames, IA can tremendously enhance the value of your home if you opt to purchase a seamless gutter network.

Brands We Trust
We are proud to use and carry Leaf Sentry products. We can help you update your gutters as stylishly as possible using Leaf Sentry's well-designed water conveyance systems. At Seamless Gutterworks Co, we prefer Leaf Sentry products as they offer a no-clog guarantee ensuring the best new seamless gutter installation for your residential home or commercial business. Investing in Leaf Sentry gutters is investing in the quality of your home.
Install New Gutters
If you're looking for a fresh new way to protect your home's roofing and preserve your landscaping, you should consider installing new gutters on your residential space. To find out more about our rain gutter installation, repair, or cleaning services, contact us today at 641-648-2755.